Unseen by Rachel Caine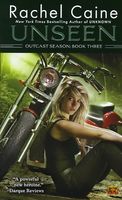 For millennia, Cassiel was a powerful Djinn -- until she was exiled to live among mortals. Reluctant at first, she has grown affectionate toward her new human compatriots. But for one Warden in particular, she feels something much more powerful.

After Warden Luis Rocha and Cassiel rescue an adept child from a maniacal Djinn, they soon realize two things: The girl is already manifesting an incredible amount of power and her kidnapping was not an isolated incident.

All over the world, young Wardens are showing their potential far too early. And this Djinn -- aided by her devoted followers -- is snatching the children seemingly at will and indoctrinating them so she can use their strength for herself.

With no other options, Cassiel infiltrates the Djinn's organization. Deprived of the ethereal gifts allowed her by the Wardens, she soon begins to question her own ideas of right, wrong, and true power. But if Cassiel cannot stop the Djinn's apocalyptic designs, all of humanity may be destroyed -- including Luis.
what readers are saying
What do you think? Write your own comment on this book!
Write a Comment
book info
genres
Speculative Fiction
---