Ox by Piers Anthony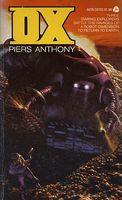 Cal, Veg, and Aquilon -- two men and one woman -- roamed the alternate dimensions of time and space. With them were the mantas, strange flying aliens--half-animal, half-fungus -- who could boast the keenest senses of any creatures in the universe. And with them too was the mysterious, impassive super-woman, Tamme.

Now they were imprisoned on a hostile world dominated by savage robot machines. It was crucial to their very survival that each find a way back to their familiar dimension of Earth.

Suddenly they encountered the pattern named OX -- an amorphous, telepathic being of brilliant luminosity -- who held the key to every alternate dimension in the universe, including their only chance of escape!
what readers are saying
What do you think? Write your own comment on this book!
Write a Comment
book info
genres
Speculative Fiction
sub-genres
Science Fiction
people / creatures
Aliens
---