The Italian Duke's Wife ~ Penny Jordan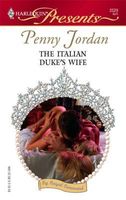 "I will pay you one million pounds to become my wife for one year. The marriage will not be consummated..."

Italian aristocrat Lorenzo, Duce di Montesavro, needs to marry, and English tourist Jodie Oliver seems the ideal candidate for this convenient arrangement -- her vulnerability is especially appealing to Lorenzo. But when he unleashes a desire Jodie never knew she possessed, Lorenzo is soon regretting his no-consummation rule....
what readers are saying
What do you think? Write your own comment on this book!
Write a Comment
sub-genres
Contemporary Romance
people / creatures
Royalty
---