Until Morning Comes by Peggy Webb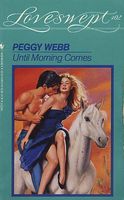 JoBeth McGill didn't believe she'd ever fall in love... until a fierce and mysterious man in buckskin took her captive!

In San Francisco he was Dr. Colter Gray, but in the Arizona desert he was Colter Gray Wolf, whose voice could command the stars to shine. JoBeth trembled with excitement when sparks flew between them -- and tempted the passionate poet to caress the gold of her hair. In moonlight he looked every inch the noble savage as he lifted her onto his stallion and wooed her with ancient Apache love rituals. JoBeth yearned for him as the hungry earth needed spring rain, but how could she abandon her aging parents to follow her beloved? Colter told her with his body what words could not, but he refused to confide the torment that had drawn him home or to reveal what ghosts had driven him away years before. JoBeth was no good at playing hard to get, only for keeps, but could she make Colter see that once he'd chosen her, he could never let her go?
what readers are saying
What do you think? Write your own comment on this book!
Write a Comment
book info
sub-genres
Contemporary Romance
people / creatures
Native Americans
---