See Me In Your Dreams by Patricia Rosemoor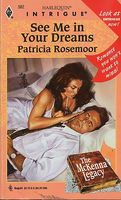 The McKenna Legacy: Does Keelin McKenna have what it takes to fulfill it?

Keelin McKenna dreamed through other people's eyes...victim's eyes. Too bad no one ever believed her. But when Keelin tried to reunite the McKenna clan, the dreams intensified. And this time she couldn't ignore them--somewhere out there was a teenage girl who needed her ....

Tyler Leighton was desperate enough to try anything to get his daughter back--but a beautiful visionary wasn't exactly high on his list of solutions. But when she made a connection with something only he and his daughter could know, he had to wonder. Was Keelin the one woman who could help him ...and then love him?
what readers are saying
What do you think? Write your own comment on this book!
Write a Comment
book info
sub-genres
Romantic Suspense
---