Home for Christmas ~ Patricia Potter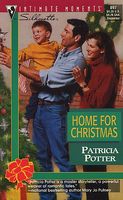 HOLIDAY HERO?

Through smoke and mayhem, two strong arms and a gentle voice coaxed Julie Farrell and her precious boy to safety. To mom and son, Ryan Murphy was a hero. To everyone else, he was a killer, destined to remain behind bars for life.

Instead, Julie brought him home.

Her lawyer's instinct and woman's intuition screamed that this savior without a memory was a good man, an honorable man ... an innocent man. Together, they were the perfect team ... and a perfect family. But Julie had been wrong once before, and she only prayed that her heart hadn't led her to invite a murderer home for Christmas.
what readers are saying
What do you think? Write your own comment on this book!
Write a Comment
sub-genres
Contemporary Romance
---