A Woman of Destiny by Orson Scott Card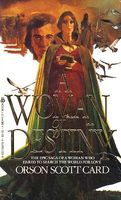 For Pride, For Passion, For Her Family

From the inferno of industrial England to the shining promise of a new America, Dinah Kirkham rose to free herself and her children from poverty's grim reign, and reach for the freedom that is every woman's dream...

A woman of courage...to heal a divided family

A woman of compassion ...to forgive the father who had abandoned her, and the brother who tried to rule in his stead

A woman of beauty... to marry a man whose words would move millions, whose love could never be hers alone

A Woman of Destiny ...a passionate journey that will sweep you into an unforgettable woman's life!
what readers are saying
What do you think? Write your own comment on this book!
Write a Comment
book info
time period
Nineteenth Century
American West
sub-genres
Historical Romance
themes
Inspirational / Christian
---