The Spy's Bride by Nita Abrams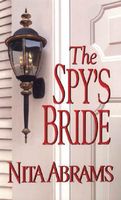 London, 1813: Napoleon is retreating under the relentless British advance, but as those loyal to him scramble to form new alliances, no one can be trusted and no motive is without question. And for James Meyer, the rebellious son of one of Wellington's principal couriers, the greatest danger to his happiness is closer than he can imagine...

A Dangerous Obsession
Trained in military intelligence since he could walk, James Meyer should have avoided the treacherous plot that resulted in his capture by the French. That the betrayal came from the woman he loved, a beautiful Austrian countess, nearly destroyed him. Bitter, yet still obsessed with the woman who deceived him, James retreats into an arranged marriage with Eloise Bernal, the sheltered daughter of a wealthy Jewish couple, though he's certain she's carrying another man's child. With a price still on his head, he agrees to accompany his new wife into the heart of Paris for a chance to find the countess he cannot forget...

Eloise is shocked at James's ferocious behavior towards her--and his assumption that she is with child. Though she needs his protection to visit her gravely ill grandmother in France, she intends to dissolve the union as soon as they return to London. Now, with powerful enemies all around them, Eloise will have to rely on the one man she cannot trust--and face a passion she can no longer deny...
what readers are saying
What do you think? Write your own comment on this book!
Write a Comment
book info
time period
Nineteenth Century
Regency
sub-genres
Historical Romance
tags
acurate historical info
---