A Worm of Doubt by M.R.D. Meek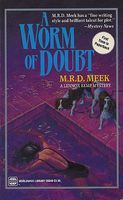 LENNOX KEMP TRIED NEVER TO JUDGE ON INITIAL IMPRESSION

But when the sharp-eyed Mrs. Frelis Lorimer decides Kemp is just the man to help her get rid of her husband's lovely young mistress, Kemp's immediate mistrust of the woman is well founded. Frelis knows secrets from Lennox's past ... and she's not above using blackmail to get her way.

But the hands of fate--or rather, a killer--intervene. Poor Eileen is found dead in the motel Jacuzzi where she'd been waiting for her lover--Frelis's husband. She'd planned to announce her pregnancy.

As the police sort out the muddled clues, another murder occurs ... and Lennox Kemp is drawn into a family mystery as perplexing as it is oddly unsettling.
what readers are saying
What do you think? Write your own comment on this book!
Write a Comment
book info
published
May-1988 (hardcover)
sub-genres
Police / Detective / FBI / Law Enforcement
---