The Devil's Web by Mary Balogh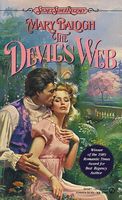 REKINDLED DESIRE

The last time Madeline Raine had seen James Purnell, she had been but a chit of a girl, and at his mercy. Purnell had held her helpless in his arms - but protectively above the abyss of her own dangerous hunger for him.

He had left her then, not taking her innocence but taking her heart, as he vanished from England. Since then Madeline had reigned as society's most dazzling and heartless beauty, making all men pay for one man's rebuff of her.

Now James was back, more handsome and arrogant than ever. And Madeline steeled herself not to fall under his spell again. But she soon discovered that the melting power of passion ignited by love would not easily die...
cover variations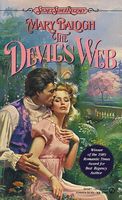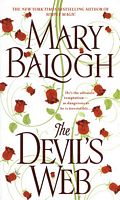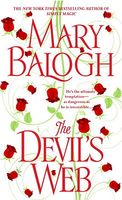 what readers are saying
What do you think? Write your own comment on this book!
Write a Comment
book info
time period
Nineteenth Century
Regency
sub-genres
Historical Romance Traditional Regency
themes
Abuse Secret Baby Virgins
people / creatures
Royalty
tags
Abused-Neglected, Old flame, Paternity, Pretend marriage, Royalty, Secret Child, Virgin
---