Devil's Bargain ~ Marlene Suson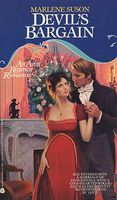 A CAD'S CONTRACT
The prospect of romance held little allure for Portia Easton. Besides which, in remote Warwickshire, the best she could possibly hope for would be a match with some obscure country gentleman. Of course, that was before Marc Hamilton, the dashing Duke of Castleton, swept into her life and, to Tia's great amazement, proposed marriage -- though solely for the purpose of producing an heir. True, Tia scoffed at love...but she did not even like this arrogant, ill-mannered, though frightfully handsome, blackguard. It was an impossible situation made even more so by the Duke's penchant for making dangerous enemies -- and by a curious warmth in his icy demeanor that awakened sensuous stirrings in Tia's ever-so-sensible heart.
what readers are saying
What do you think? Write your own comment on this book!
Write a Comment
sub-genres
Traditional Regency
themes
Marriage of Convenience
---