Ghost Eye by Marion Dane Bauer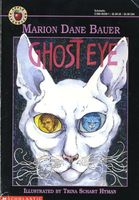 An extraordinary cat!

Purrloom Popcorn, the odd-eyed cat, was perfectly happy to spend his days winning blue ribbons and preening before cat-show judges. His one blue eye and one gold eye made him very unusual.

But one day, he is suddenly transported far from the show life he knows, to a big old house in a strange city, where a lonely little girl tries desperately to befriend him. As Popcorn attempts to return to what had always been his home, he makes a startling discovery. For through his one blue eye, he is able to see ghosts -- and there are many!

what readers are saying
What do you think? Write your own comment on this book!
Write a Comment
book info
age level
Kids (12 & Under)
---