Cheyenne Surrender by Madeline Baker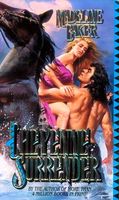 CALLIE

She had the face of an angel and the body of a temptress. Her innocent kisses said she was still untouched, but her reputation said she was available to any man who had the price of a night's entertainment.

CALEB

Callie's sweetness touched his heart, but the whole town of Cheyenne knew she was no better than the woman who'd raised her --- his own father's mistress. Torn by conflicting desires, the handsome half-breed didn't know whether he wanted her walking down the aisle in white satin, or warm and willing in his bed, clothed in nothing but ivory flesh!
what readers are saying
What do you think? Write your own comment on this book!
Write a Comment
book info
time period
Nineteenth Century
American West
sub-genres
Historical Romance
people / creatures
Native Americans
---