Squeeze Play by Lori Copeland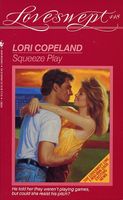 The Best-Looking Guy in Town...

Dex Matthews was back, and Carly Winters still thought her ex-fiance was too handsome for his own good...and hers! The brilliant marketing director had challenged and charmed her like crazy when they'd first met, stealing kisses and capturing her heart -- even if he was impossible methodical and she just as spontaneous. But she'd broken their engagement, hiding her insecurity by vowing she needed her independence more than she wanted Dex. He'd given her what she asked without demanding an explanation, he'd even taken job miles away -- and she wondered why he'd given up so easily. Now Dex had returned, more gorgeous and talented than ever, and if that wasn't enough, he was her rival in the office softball game! Competing with Dex at work had been painful enough...now she'd be struggling to beat him on the playing field too. Dex kissed her until she melted, insisting he loved her just as she was, but could he make Carly believe it was the two of them against the world?
what readers are saying
What do you think? Write your own comment on this book!
Write a Comment
book info
sub-genres
Contemporary Romance
---