June by Lori Copeland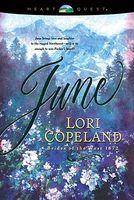 WANTED:
Women with religious upbringing, high morals, and a strong sense of adventure, willing to marry decent, God-fearing men. Applicants may apply by mail. Must allow at least two months for an answer.

Like her sister before her, June leaves her Michigan home to embrace her future as a mail-order bride to a young Washington State pastor. But from the start, nothing works out as June expects. Caught up in her fiancé's vision for an elaborate tabernacle that would befit God's glory, she soon learns that not everyone approves of the plan; some would rather support the local orphanage. June finds herself drawn to the orphanage run by her friend Samantha and her aging aunt. Caring for the orphans is a natural outlet for June's generous, nurturing spirit. But the two projects seem incompatible, and June finds herself faced with difficult choices -- choices that challenge both her faith and her heart.
cover variations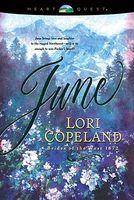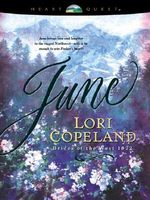 what readers are saying
What do you think? Write your own comment on this book!
Write a Comment
book info
time period
Nineteenth Century
American West
sub-genres
Historical Romance
themes
Inspirational / Christian
---