A Winning Combination by Lori Copeland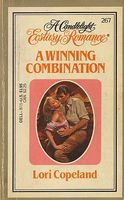 When Kayla Marshall met the shy, gentle salesman at Trahern Tool and Die, she knew she'd finally met the man she wanted to marry. Franklin's inexperienced yet curiously bold touch filled her with a passion unlike any she'd ever known. And when she discovered she was going to bear his child, it seemed a dream come true.

Then Kayla learned the terrible truth. Her beloved "Franklin" was none other than Nick Trahern, the notorious womanizer, the boss she'd known only by his reputation for ruthlessness. How could she forgive the callous impostor who'd tricked her? How could she trust him when he insisted his flirtatious game had turned to love? How could she not believe him when her own heart was telling her to take her playboy "salesman" back into her arms--and never let him go?
what readers are saying
What do you think? Write your own comment on this book!
Write a Comment
recent publishing history
First Edition
Mass Market Paperback
Dell
ISBN:

0440197155
ISBN13:

9780440197157
---
Paperback
Leisure
ISBN:

0843929863
ISBN13:

9780843929867
---
Paperback
Love Spell
ISBN:

0505519518
ISBN13:

9780505519511