Strangers Into Lovers ~ Lilian Peake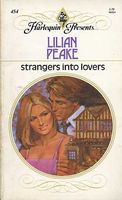 "I am cured, of both the illness and you."

Randall West's words rang in Gillian Taylor's head. Their love affair had ended abruptly. Randall had been dying... and knowing this, Gillian hadn't been able to face him. So she had run away.

Then four years later he walked through the door--alive and well! But it didn't matter, for their lives were on different courses now: Gillian engaged to Everett; Randall engaged to June.

The only thing left between them was Randall's bitterness. Would the grudge he bore her for running out on him ever go away?
what readers are saying
What do you think? Write your own comment on this book!
Write a Comment
sub-genres
Contemporary Romance
---