Never a Bride by Leanne Banks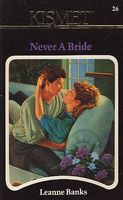 ALWAYS A BRIDESMAID...

When Joshua Daniels agreed to be in his friend's wedding, he had no idea he'd be paired off with a blue-eyed, golden-haired beauty. But Cassie Warner was every guy's dream come true: bright, clever, and sweet ecstasy in his arms. Now that he was moving his business to St. James, Joshua hoped to see a lot more of the elusive bridesmaid.

Cassie couldn't deny her attraction to Joshua Daniels. He was rock solid and handsome in a natural, sexy way. But Cassie wasn't interested in romance. Jilted at the altar as a nineteen-year-old bride, Cassie wasn't about to let another man get under her skin.

As far as Cassie was concerned, theirs was a fleeting romance -- a sweet flirtation between two members of the bridal party. Then Joshua came marching into her shop with his attorney. He had bought the building that housed Cassie's boutique, and he needed her to vacate the space to make way for his new business!
what readers are saying
What do you think? Write your own comment on this book!
Write a Comment
book info
sub-genres
Contemporary Romance
---