The Seventh Suitor by Laura Matthews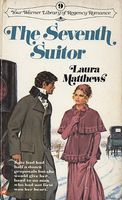 "I fear we should not suit, sir!" said Kate.

As the fifth young man to offer for her hand that afternoon revealed his purpose and his "prospects," even Kate had to laugh at the absurd prank her brother's friends were playing. But once years ago, she remembered, she had refused such a proposal, and there had been sad consequences. Now all she had to remember that suitor by was a legacy--one, her haughty neighbor Lord Winterton felt, no lady of honor would accept.
what readers are saying
What do you think? Write your own comment on this book!
Write a Comment
book info
time period
Nineteenth Century
Regency
sub-genres
Traditional Regency
---