Cutter by Laura Crum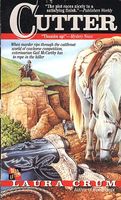 Veterinarian Gail McCarthy thought cutting horse trainer Casey Brooks was being paranoid with his accusations of poisoned horses and attempts on his life. But when he misses an appointment and his blue roan mare returns riderless, Gail goes out looking for him and finds his dead body at the bottom of a gully. Though the sheriff calls it an accident, Gail knows Casey was too good a rider to be thrown.

Spurred on by the memory of her hardheaded, wild-hearted friend, Gail searches for the truth and finds no shortage of suspects among hostile girlfriends, angry horse owners and legendary rivals. But as she moves through this world of power, passion and greed, the young vet also finds herself falling headlong into violence that began with killing horses and could mean the end of her...
what readers are saying
What do you think? Write your own comment on this book!
Write a Comment
book info
published
Jul-1994 (hardcover)
Dec-1995 (paperback)
sub-genres
Amateur Sleuth
people / creatures
Women Sleuths
---