Summer in Paradise by Kerry Allyne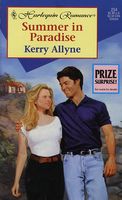 Hold the front page!

Kelsey Marlowe wanted an interview with the elusive tycoon, Gardner Wainwright. She was determined to stay objective and maintain a proper distance between herself and her subject -- however sexy he was.

But Gardner had other ideas. Publicity for his business was one thing, but some lady reporter poking around in his private life was another. However conscientious and caring Kelsey might appear to be, Gardner knew that all she wanted at the end of the day was a story. But that wasn't going to prevent him from giving her a good run for her money!
what readers are saying
What do you think? Write your own comment on this book!
Write a Comment
recent publishing history
First Edition
Mass Market Paperback
Harlequin
ISBN:

0373172540
ISBN13:

9780373172542