The Lady and the Lion by Kay Hooper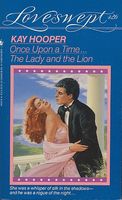 The Mysterious Spellbinder...

At first she was only a voice in the darkness before dawn, but soon Keith Donovan was haunted, obsessed by the woman who'd listened to his cynical, desperate murmurings, and shared secrets of her own troubled heart. He'd never expected her to be so impossibly lovely, nor did Erin Prentice imagine that her powerful, anonymous companion of the night could fill her with recklessness...and sweep her into his dangerous quest for revenge. Something beyond reason bound her to this man, whose ruthless passion overwhelmed her in a tidal wave of primitive demand that thrilled and terrified her. Keith was her destiny, her crossroads -- and Erin knew she had no choice but to welcome the fire that flared between them, even if he could never promise her always. But when he was forced to choose between love and rage, between tomorrow and yesterday, would the untamed spirit that first drew her to him find the courage to surrender his grief?
what readers are saying
What do you think? Write your own comment on this book!
Write a Comment
book info
sub-genres
Contemporary Romance
---