Ilene, the Superstitious by Katheryn Kimbrough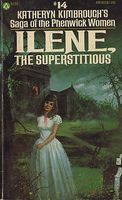 For lovely, lively Ilene Dumphy, growing up in a poverty-stricken Irish family in 19th century Boston, the world was filled with magic. She believed in the myths of old Ireland, in leprechauns and fairies - but she was not prepared for what awaited her in the service of the rich and powerful Phenwick family.

In the Phenwick mansion, a grim old woman ruled from her sickbed...another woman's ghost haunted the house...and the spell of love that one Phenwick man cast over Ilene was overcome by the evil enchantment of another - as Ilene learned that magic could be malevolent, and that a pure heart offered no protection in a place where Satan was enthroned and insatiable....
what readers are saying
What do you think? Write your own comment on this book!
Write a Comment
book info
time period
Nineteenth Century
1840's-1850's
---