Lakota Surrender by Karen Kay
DESTINY'S DREAM

Bored and restless back East, high-spirited Kristina Bogard is thrilled when her cavalry officer father summons her to join him on the Kansas frontier. Since childhood, she has yearned to know the life and people so lovingly described by her Indian nanny. And Kristina has often dreamed of a breathtaking Lakota warrior with flashing dark eyes--unaware that the handsome brave is real... and waiting.

VISION OF DESIRE

A need to avenge his father's murder brings proud Tahiska to the white man's outpost. But one glimpse of Kristina transforms the bold Lakota brave's rage into passionate longing. And though gathering war clouds darken their separate worlds, Tahiska must have this green-eyed beauty as his wife. For they are one, in heart, in body and in spirit--as eternally bound as the stars are to the sky.
cover variations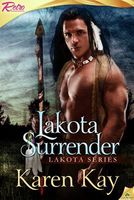 what readers are saying
What do you think? Write your own comment on this book!
Write a Comment
book info
time period
Nineteenth Century
American West
sub-genres
Historical Romance
people / creatures
Native Americans
---