Satin Embraces by Julia Grice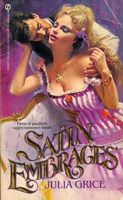 Don't worry, I've seen women before, this is nothing new, Riordan said. Your arms, your legs...you've dozens of tiny burns from sparks.

Alisa moaned and attempted to cover herself, but it was as if she were caught in a spell, hypnotized. Riordan continued to bathe her, dipping a cloth into warm water and sponging it over her face, her arms, her whole body. Your body is so lovely, Alisa, he murmured. Then he was with her on the bed. His hands savored her skin, his mouth caressed her gently, then with growing urgency, until her whole body arched upward. God...Alisa...oh, God, he groaned, pulling her to him, and all her languor was gone now, melted into a wild passion that merged with his.....
what readers are saying
What do you think? Write your own comment on this book!
Write a Comment
book info
sub-genres
Historical Romance
---