Dying to Remember by Judy Fitzwater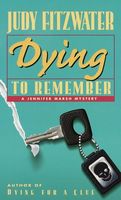 MYSTERY WRITER JENNIFER MARSH RETURNS -- INVESTIGATING MURDER FOR OLD CRIMES' SAKE!

Jennifer Marsh's high school reunion is truly a nightmare. Among her classmates: overweight ex-jocks handing out business cards; former cheerleaders fast becoming clones of their mothers; class beauty Sheena Cassidy, more narcissistic than ever; and bad boy Danny Buckner, Jennifer's unforgotten first love. Missing, of course, is Jimmy Mitchell, whose haunting disappearance on prom night twelve years ago remains a chilling mystery. All that's needed to make the evening a complete disaster is murder--an oversight soon gruesomely remedied by person or persons unknown. Trapped in the dangerous thick of it is Jennifer, knowing too much to suit a killer ... and dying to remember enough to save her own life.
what readers are saying
What do you think? Write your own comment on this book!
Write a Comment
book info
sub-genres
Amateur Sleuth
---