At Risk by Judith E. French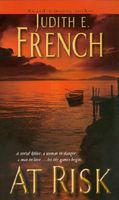 THE GAME MASTER

He had a memento from each of them. Just little things to bring back memories of the shrieks, the blood. What would he take from the Professor, he wondered? She would be best of all, isolated in her old farmhouse by the edge of the swamp. She had no idea which of the men pursuing her she could trust--the handsome grad student, the bad-boy ex-boyfriend, the wheelchair-bound former police officer. She had no idea that while she fantasized about sultry nights and twisted sheets, very different plans were being made and studied in intimate detail. She had no idea she was at risk. But all that was about to change.
what readers are saying
What do you think? Write your own comment on this book!
Write a Comment
book info
sub-genres
Romantic Suspense
---