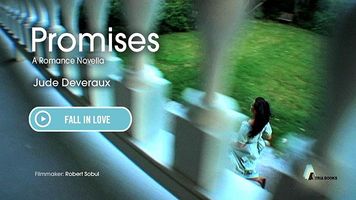 Promises is a story of passion and mystery set on an 19th century plantation, where a beautiful young writer finds herself falling for the last man she ever expected to love.
what readers are saying
What do you think? Write your own comment on this book!
Write a Comment
Kelly
: I have not been able to read this book because I do not have the correct ereader. I would prefer this book to be available in .epub, .mobi, .prc, etc. I feel having this book is not fair to the rest of the Edilean series readers. Jude Deveraux is my favorite author, however, her publishers need to think further about her readers. Having a book in the middle of a series only available in a format that isn't available to all can alienate fans.
Brenda
: I love these books. But am now stuck in the middle because "Promises" doesn't come in audio. What am I supposed to do now? I listen to my books on the way to work. The vook makes no sense. It should come in all mediums so we can go on with the series without skipping one
Now what do I do?
glo
: I looked all over for this book. It is not available in any form in the library. Maybe this book doe not exist.
Nina
: From what I've read online this book doesn't exist in hard form anyway... is only 70 pages long and you won't really miss much by missing this book from the series.