Murder Among Us by Jonnie Jacobs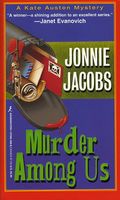 Jonnie Jacobs has delighted a legion of ans with her two previous Kate Austen mysteries. Now, she puts the intrepid single mom and suburban sleuth to-the test by pitting her against two formidable foes: a cunning killer and a meddlesome mother-in-law.

Halloween is fast approaching, but there are no treats in store for art-time teacher Kate Austen.The unsolved killing of a local girl is testing her mettle, an impending divorce from her husband Andy, is working her last nerve, and an unexpected visit from her mother-in-law has sent Kate's boyfriend, police detective Michael Stone, running for cover.

Kate thought things couldn't get much worse. But now, one of her own students, Julie Harmon, has been found murdered -- shot to death in a remote section of Berkley.A possible link between the two killings has unleashed a flurry of fear in the once peaceful community of Walnut Hills, and put a spark in Kate's investigative mind. And doubly so when she starts receiving threatening letters, veiled warnings, and a special delivery souvenir. As the tension mounts, Kate knows she must work fast, before the shadowy stranger strikes again.

Possessing a delicious sense of the macabre, a richly-drawn cast of characters, and an intricate plot, MURDER AMONG US firmly establishes Jonnie Jacobs as a master of her craft.
cover variations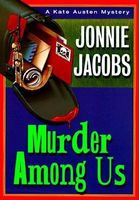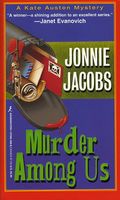 what readers are saying
What do you think? Write your own comment on this book!
Write a Comment
book info
published
Apr-1998 (hardcover)
Mar-1999 (paperback)
sub-genres
Amateur Sleuth
---