Martians in Maggody by Joan Hess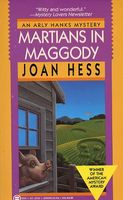 For Police Chief Arly Hanks, Maggody, Arkansas, (pop. 755) is a sleepy little town where nothing ever happens--until the day UFOs, Martians, Bigfoot, and tabloid reporters descend on Maggody... and bring along a case of murder.

The summer starts out normal enough. But soon hysterical reports of strange lights, silver-headed Martians, cattle mutilations, and a hairy creature with very large feet are pouring into Arly's office. Most pesky of all, however, is the arrival of a pair of reporters from rival supermarket tabloids and two "professors" who specialize in writing books about alien phenomena. What starts out as a headache and begins to look like a panic turns serious when a dead body is found out at Boone Creek. Now Arly's got a very down-to-earth puzzle on her hands, and she suspects it's directly connected to an extraterrestrial hoax.
what readers are saying
What do you think? Write your own comment on this book!
Write a Comment
book info
published
Nov-1994 (hardcover)
Nov-1995 (paperback)
sub-genres
Police / Detective / FBI / Law Enforcement
---