Malice Domestic 9 by Joan Hess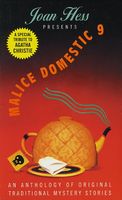 JOAN HESS PRESENTS MALICE DOMESTIC 9: AN ANTHOLOGY OF ORIGINAL TRADITIONAL MYSTERY STORIES
Including Agatha Christie's classic mystery "The Case of the Discontented Soldier"
With fourteen Christie inspired tales from today's most talented mystery writers

DIG INTO A TOXIC TREAT OF MURDER MOST FOUL FROM THE DEVIOUS MINDS OF THE FINEST WRITERS
Robert Barnard • Jan Burke • Kate Charles
Marjorie Eccles • Teri Holbrook • Gwen Moffat
Marcia Talley • Dorothy Cannell • Charles Todd • Ann Granger
Walter Satterthwait • Carolyn Wheat •Susan Moody

SAMPLE SOME DELECTABLE BITS OF MALICIOUS MOTIVES...AND MOST INTRIGUING MURDERS
--Residents of an old-age home have a killer of a plan for dealing with chronic complainers.
--The ladies of the parish just love Father Luke...they love him to death.
--Someone just can't wait for old Aunt Marigold's heart to give out.
what readers are saying
What do you think? Write your own comment on this book!
Write a Comment
---