The Shadows of Castle Fosse by Jill Tattersall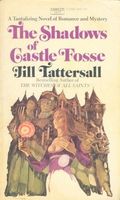 I awoke from an alarming dream with pounding heart and a dry mouth. Instantly I became aware that I was not alone. A shadow loomed over me, but before I could focus my eyes upon it, my lamp went out.

"The shadow feel upon me.

"Black folds enveloped me ..." terror engulfed me.

I struggled wildly for what seemed an eternity.
Sometimes I got my head free and gulped sweet air, but before I could cry out I would be swamped again, drowning in the suffocating dark".

what readers are saying
What do you think? Write your own comment on this book!
Write a Comment
---