Wish Me a Rainbow by Jessica Douglass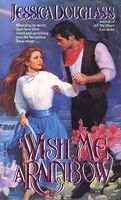 WITHIN THE WILD-SPIRITED GIRL...
From feisty manner to fiery hair, Amelia O'Rourke grew up on her father's Texas ranch with a tomboy's spunky exuberance. But she was changing in spite of herself, whispers of unfamiliar longings beginning to tease her, torment her...friendship for the pal of her childhood taking on a strange, sweet urgency. Gazing into Matt Grayson's midnight-blue eyes, Aniline could no longer deny her growing desire for him.

STIRRED A WOMAN'S HEART
But before she could tell the rugged rancher how she felt, Ammie saw his head turned by Lynnette Simmons, a brunette beauty with the air of a lady and an enigmatic past. Watching Lynette play with exquisite skill on Matt's family tragedy, .Ammie knew her chance to grasp at the rainbow of happiness would be lost forever... unless she shed her pride for the awesome power of passion....
what readers are saying
What do you think? Write your own comment on this book!
Write a Comment
book info
time period
Nineteenth Century
American West
sub-genres
Historical Romance
---