Murder's Out of Tune by Jeffrey Miller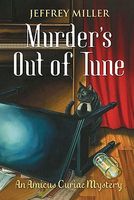 Amicus Curiae, Q.C., the cat on the prowl for justice, and his companion human, appeal judge Ted Mariner, return in this literate, funny, and downright jazzy mystery. Aging sax star Des Cheshire has played in the shadow of pianist and bandleader Billy Wonder for 25 years, stuck in the band due to an ironclad contract. So when Wonder turns up very publicly dead, Cheshire quickly becomes the main suspect, making him the newest legal challenge for narrator Amicus, Q.C. (for Questing Cat) and Judge Mariner. But while collecting clues, they must solve some personal problems of their own. The judge's wife, Penny, has evicted them both, suspecting the judge of more than professional relations with his comely new law clerk. As "strays" about town, man and cat experience several hair-raising encounters with members of the opposite sex, as well as with their professional rivals. Mystery fans will adore the acerbic wit and clever twists of this curious cat detective.

what readers are saying
What do you think? Write your own comment on this book!
Write a Comment
---