Delaney's Crossing by Jean Barrett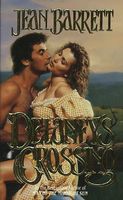 PASSAGE WEST
Virile, womanizing Cooper J. Delaney was Agatha Pennington's only hope to help lead a group of destitute women to Oregon, where the promise of a new life awaited them. He was a man as harsh and hostile as the vast wilderness--but Agatha counted on a gentleness she sensed behind his hard-muscled exterior, a tenderness lurking beneath his gruff facade.

PASSAGE TO LOVE
Tricked by Agatha into leading the women, at first Delaney couldn't wait to get away from the prim-and-proper old maid. But as the group battled rainstorms, renegade Indians, and raging rivers, the tall beauty's tenacity never wavered. And with each passing mile, Cooper realized he was struggling against a maddening attraction for her--until he decided, much to his surprise, that he would journey to the ends of the earth if only he could claim her untouched heart.
what readers are saying
What do you think? Write your own comment on this book!
Write a Comment
book info
time period
Nineteenth Century
American West
sub-genres
Historical Romance
---