Empire of the Heart by Jasmine Craig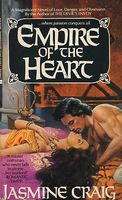 In a land of great beauty and intrigue, their fates were forever entwined...

Lucinda was beautiful and free-spirited, an English lady ruled by her passions-yet innocent in the ways of love.

Rashid was dark and mysterious, an Indian trader who lived by his courage and wits in a world fraught with danger.

Crossing the merciless desert sands of Afghanistan, Lucy was kidnapped and enslaved by the brutal khan. Escape was impossible. And yet, the handsome stranger Rashid dared to rescue her-breaking the chains of captivity and sweeping her far away to the dazzling, exotic land of India. There, he unleashed a fiery passion in her heart, a deep, insistent desire that blazed like the Indian sun. Then, as quickly as he had entered her life, Rashid vanished without a trace...

Lucy returned to England, vowing to forget him. And then she met her sister's fiance, Lord Edward. And something sparkling in his dark, sensuous eyes stirred her deepest passion...her memories of Rashid. Were they, in fact, the same man?
what readers are saying
What do you think? Write your own comment on this book!
Write a Comment
recent publishing history
First Edition
Paperback
Charter
ISBN:

1557731845
ISBN13:

9781557731845
---
Mass Market Paperback
Mills & Boon (UK)
ISBN:

0263780562
ISBN13:

9780263780567