Princess Charming by Jane B. Mason; Sarah Hines Stephens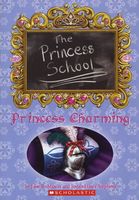 Ella. Snow. Rapunzel. Rose.
Four friends who wait for no prince.

The Charm School for Boys is holding their annual jousting tournament, and Prince Val is a favorite to win -- thanks to Rapunzel's coaching. But Val is developing a pretty big chip on his shoulder, and Rapunzel would love the chance to knock it off. Sure, Val can out-joust any prince -- but can he compete against a prince-ess? Rapunzel knows she has the skills to beat him, but keeping her identity a secret throughout the tournament won't be easy, even once she's disguised as a knight in shining armor. She'll need Ella, Snow, and Rose to cover for her absence at Princess School. And where will she find a jousting helmet that fits over all that hair?
what readers are saying
What do you think? Write your own comment on this book!
Write a Comment
book info
age level
Kids (12 & Under) Kids: Chapter Books (7-10)
---