Still House Pond by Jan Watson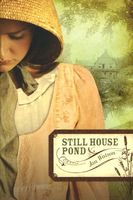 LILLY GRAY CORBETT loves living on Troublesome Creek, but she would much rather play with her best friend than watch her little brother and the twins. Her mama, Copper, is often gone helping to birth babies, and Lilly has to stay home and help. When Aunt Alice sends a note inviting her to visit in the city, Lilly is excited to go.

Copper isn't quite ready to let her young daughter travel all the way to Lexington by herself, but she reluctantly agrees to let Lilly go. When Copper and her husband John hear news that Lilly's train crashed, they rush to find out if their daughter is injured -- or even alive.
what readers are saying
What do you think? Write your own comment on this book!
Write a Comment
book info
time period
Nineteenth Century
1880's-1890's
themes
Inspirational / Christian
---