Zero City by James Axler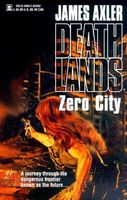 A FUTURE CONDEMNED
The nuclear Armageddon of 2001 put the world on an odyssey of savage rebirth. Now, little more than a hundred years after the blast, the quest for power is viciously embraced by America's new masters, barons commanding fortresses called villes, policed by stonehearts called sec men. But even in this dark new world, heroes and legends are emerging. One of them is a warrior survivalist named Ryan Cawdor, believed to possess pre-apocalyptic knowledge that holds hope for a beleaguered future.

A PAST FORSAKEN
Hungry and exhausted, Ryan and his band emerge from a redoubt into a remarkably untouched predark city, and uncover a cache of weapons and food. But the group is not alone. Among other interlopers, the city is guarded by huge winged creatures, protecting the grisly secrets of a nearby barony. Holed up inside an old government building, where Ryan's on, Dean, lies near death, Ryan and Krysty must raid the treacherous ville across the desert where a local baron uses human flesh as fertilizer....

In the Deathlands, evil is unstoppable.
what readers are saying
What do you think? Write your own comment on this book!
Write a Comment
book info
genres
Speculative Fiction Suspense
sub-genres
Action Adventure
---