The Stoneholding by James Anderson; Mark Sebanc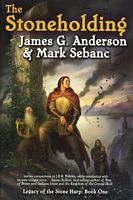 ONE MAN AGAINST THE DARK NIGHT OF CHAOS

Darkness looms over the ancient world of Ahn Norvys, and the Great Harmony of Ardiel lies rent asunder. Prince Starigan, heir to the throne, has disappeared, and power has been usurped by a traitorous cabal.

In the mountainous highlands is the small but ancient clanholding of Lammermorn, the Stoneholding. It has held out against the gathering forces marshaled by the dark figure of Ferabek. Here, by tradition from earliest times, the High Bard has resided as Guardian of the Sacred Fire and Ardiel's ancient harp. Ferabek suspects the Bard is also protecting Prince Starigan. And Ferabek will stop at nothing to capture or kill the prince, no matter how impregnable the Stoneholding may seem.

Kalaquinn Wright, the wheelwright's son, serves as apprentice to the High Bard. Kal, green in years and understanding, enjoys the pastoral life in his remote clanholding, but his time of innocence and idyll has come to an end. As night descends upon Ahn Norvys and darkness creeps into Lammermorn, Kal must somehow find Prince Starigan and rekindle the Sacred Fire, must somehow find a way to restore the Great Harmony. This has become his destiny, a destiny that lies far beyond THE STONEHOLDING.
cover variations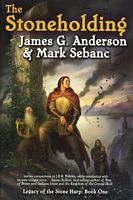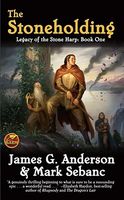 what readers are saying
What do you think? Write your own comment on this book!
Write a Comment
book info
genres
Speculative Fiction
---