Caitlin by Jade Parker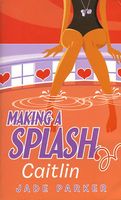 CAITLIN'S SUMMER TO-DO LIST

1. Lifeguard job at Tsunami, the water park's most popular pool. Keep the rowdy guys in line.
2. Avoid Michael Romeo. So what if he's cute and makes me laugh?
3. Solve the Whitney mystery - what's going on there?
4. Buy new bathing suit!
5. Stop thinking about Michael Romeo!!
what readers are saying
What do you think? Write your own comment on this book!
Write a Comment
book info
age level
Young Adult / Teens (13-17)
---