Boy Crazy by Hailey Abbott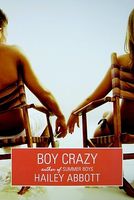 How to Date Like a Guy:

1. Flirt constantly.

2. Keep your options open.

3. Don't get attached.

Cassie and her two best friends, Greta and Keagan, are so over boyfriends. But just because the girls are anti-boyfriend doesn't mean they're anti-boy. So they make a pact for the summer: They'll each kiss ten different guys before school starts--no commitments, no drama, just fun. Sounds easy enough. Then Cassie meets the perfect guy (nine boys too soon), and the pact starts to seem like a terrible idea. Not to mention Boy Number One turns out to be her best friend's ex. Ugh--Cassie's summer just went from carefree to complicated faster than she can say "heartbreaker."
what readers are saying
What do you think? Write your own comment on this book!
Write a Comment
book info
age level
Young Adult / Teens (13-17)
sub-genres
Contemporary Romance
---