The War With Mr. Wizzle by Gordon Korman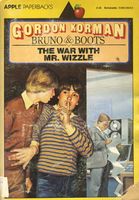 Walter C. Wizzle and his computer are trying to take over Macdonald Hall! Wizzle is making everyone wear a tie and is giving out demerits and detentions like they're going out of style! Bruno and Boots have had enough. If The Fish (Headmaster Sturgeon) won't do anything, they will. Wizzle has got to go!

The boys form a Coalition with their fellow students and the girls at Miss Scrimmage's Finishing School--and the Wizzle War is on! They build a machine to simulate earthquakes, program non-existent students into Wizzle's computer, even hide all his computer paper -- replacing it with paper towels. Nothing works. But when they match Wizzle with the girl of his dreams things begin to change. But for the better? Nobody knows what will happen once Bruno and Boots get started!
what readers are saying
What do you think? Write your own comment on this book!
Write a Comment
book info
age level
Kids (12 & Under) Kids: Middle Grade (8-12)
---