The Coronado Conspiracy by George Galdorisi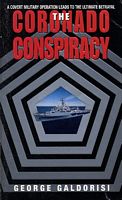 An active duty naval officer draws on his thirty years of personal experience to create a pulsating military thriller, filled with spectacular action sequences that could have only been written by a man who had been intimately involved in the Navy's counter-drug wars.

The War America Cannot Afford to Lose...
Off the coast of Costa Rica, the Navy Command Ship USS Coronado launches the high-tech, all-out assault the world has been waiting for--an attack on one of Central America's most powerful drug lords. But disaster is about to strike. For in the twisting jungles, the most powerful anti-drug invasion force ever assembled is about to be viciously ambushed--and not just by the brutal forces of the cartels, but by an unseen enemy hidden within its very ranks.

Has Been Sabotaged by the Ultimate Betrayal!
As the attack turns into a bloody debacle, Rick Holden, a CIA agent undercover as a Navy SEAL attached to Coronado, and Laura Peters, a Naval Intelligence Officer in Panama, independently uncover the reason why: a diabolical conspiracy devised by the nation's senior military leaders. Stymied by their own superiors, they decide to join forces and race back to Washington, pursued at every turn by forces in their own government, in a frantic attempt to expose the plot--one designed to bring down the President and shatter the very core of American democracy.
what readers are saying
What do you think? Write your own comment on this book!
Write a Comment
---