The Other Woman by Francine Pascal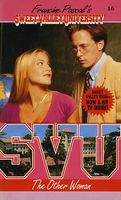 Forbidden love....
Jessica Wakefield is in love with the wrong man. Both she and her professor, Louis Miles, know that getting involved will only lead to heartbreak. But can they deny the force of their passion?

Elizabeth Wakefield and Todd Wilkins are shaking up Sweet Valley University! They've discovered corruption in the administration more rampant than anything they could have imagined. But is blowing the lid off the scandal worth risking their lives?

Lila Fowler and Bruce Patman are living together! They've got a perfect apartment, perfect furniture, and the perfect relationship -- until their families cut them off. Can Lila and Bruce live on nothing but love?

Join Elizabeth, Jessica, and their friends from Sweet Valley on their wildest adventures ever -- at Sweet Valley University.
what readers are saying
What do you think? Write your own comment on this book!
Write a Comment
book info
age level
Young Adult / Teens (13-17)
sub-genres
Contemporary Romance
---