Out of My League ~ Everett Owens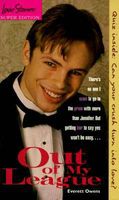 Ian Rowe never has a problem getting a date--with junior girls. But when he develops a major crush on blond beauty Jennifer Patt, he knows he doesn't have a chance. Not only is she the most sought-after female in the school, she's a senior. Everybody knows that senior girls don't date junior guys.

When Ian and Jennifer are assigned to do a psychology project together, he can't believe his luck! There's a natural chemistry between them, and Jennifer even seems receptive to his flirtations. But when Ian builds up the courage to ask Jennifer to the prom, will she say yes? Or is he setting himself up for heartache?

what readers are saying
What do you think? Write your own comment on this book!
Write a Comment
sub-genres
Contemporary Romance
---