On the Wing by Eric Kraft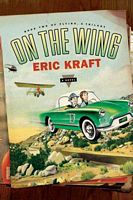 In Taking Off, the first installment of Eric Kraft's beguiling trilogy, Peter Leroy built an aerocycle in his parents' garage, working from designs he found in Impractical Craftsman magazine. Cheered on by the gathered residents of his small Long Island beach community, Peter readied his contraption for the adventure of a lifetime: a solo cross-country flight to New Mexico and back.

Now Peter is ready to fly---and in On the Wing, he tells the hilarious tale of his journey across a mid-century America populated by eccentrics, crackerbarrel philosophers, and figments of the national imagination. In small hops, mostly consisting of "taxiing" and "landing," he visits roadside attractions and unusual towns: one where every casual expression and idiom is questioned (hence a diner offering "Real Diner Cooking" rather than real home cooking); another where he is chased with pitchforks and shotguns by citizens still traumatized by Orson Welles's "War of the Worlds"; a remote crossroads where he finds himself under attack by a low-flying plane; and finally a town near Roswell, New Mexico, where Peter becomes a phenomenon to rival Roswell's reputation for alien invasion. Along the way, Peter encounters other on-the-roaders, and finds himself pursued by a mysterious dark-haired girl, who continues to appear in different guises and seems strangely familiar, though he can't quite place her face.

And, in a parallel contemporary journey undertaken with his wife, Albertine, the adult Peter revisits his long-ago journey, navigating as Albertine drives a vintage automobile through a much-changed America, and misremembering every step of the way.
what readers are saying
What do you think? Write your own comment on this book!
Write a Comment
book info
published
Aug-2007 (hardcover)
time period
1940's-1950's
Twentieth Century
---