A Wolf in Death's Clothing by Elizabeth Quinn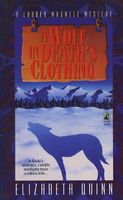 HUNTER OR HUNTED? PREDATOR OR PREY?
A trail of blood leads Dr. Lauren Maxwell, Anchorage-based investigator for the Wild America Society, to Alaska's remote Nowitna Wildlife Refuge to investigate the near-fatal shooting of her friend Belle Doyon. The fierce Athabascan native who could stand fast in the face of a charging grizzly bear was stopped by a bullet when she opened her door to the deadliest predator of all. Caught up in tribal conflict between the preservationists and the new corporate warriors, Belle has made a lethal enemy who intends to exterminate everyone who stands in the way....

When Lauren and her eleven-year-old son, Jake, arrive in the tiny Yukon village, they are met with a terrible warning. Two skinned wolves have been left on the doorstep of Sarah Doyon, known to the tribe as the Grandmother. All signs lead to the Nowitna refuge where a group of archaeologists is conducting a dig. But not even her .45 Colt automatic can protect Lauren from a brilliant, wily adversary who forces her to look into the darkest places, and learn the shocking truth about a killer who has put her on the cutting edge of death....
what readers are saying
What do you think? Write your own comment on this book!
Write a Comment
book info
sub-genres
Police / Detective / FBI / Law Enforcement
---