In a Stranger's Eyes by Doreen Roberts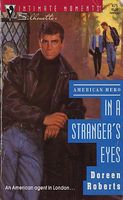 HE HAD TO CATCH HIS OWN KILLER...

Duke Winter: Ex-agent. Declared dead. Secretly kept alive by his superiors, good plastic surgeons ...and the burning need for revenge.

Carol Everett: Widow, living in London. Thought she'd buried the past with the late husband she'd hated ...and his partner, whom she'd hated even more.

The fiery car wreck that had killed his partner and left Duke Winters burned beyond recognition had been no accident. And now, one year later, with a new face and a new name, Duke had become the ultimate undercover agent. His self-assigned mission: earn the trust of his partner's widow, a woman he hoped didn't have a motive for murder-a woman he prayed wouldn't look too deeply into a stranger's eyes ...

AMERICAN HEROES: Men who give all they've got for their country, their work--the women they love.
what readers are saying
What do you think? Write your own comment on this book!
Write a Comment
recent publishing history
First Edition
Mass Market Paperback
Silhouette
ISBN:

0373074751
ISBN13:

9780373074754
---
Mass Market Paperback
Mills & Boon (UK)
Silhouette Jasmine
ISBN:

0373074751M
ISBN13:

9780373074754M