The Cereal Murders by Diane Mott Davidson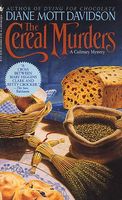 Featuring original recipes for such mouth-watering morsels as Sugar Plum Cake, luscious Red 'n' White Cookies, and savory Nachos Schulz!

A DELECTABLE DINNER
Thanks to her recent adventures in Dying for Chocolate, Goldy Bear, the premier caterer of Aspen Meadow, Colorado, is no stranger to violence--or sudden death. But when she agrees to cater the first College Advisory Dinner for Seniors and Parents at the exclusive Elk Park Preparatory School, the last thing she expects to find at the end of the evening is the battered body of the school valedictorian.

A FRESH CORPSE
Who could have killed Keith Andrews, and why? Goldy's hungry for some answers--and not just because she found the corpse. Her young son, Arch, a student at Elk Park Prep. has become a target for some not-so-funny pranks, while her eighteen-year-old live-in helper, Julian, has become a prime suspect in the Andrews boy's murder.

A TRULT TASTELESS KILLER
As her investigation intensifies. Goldy's anxiety level rises faster than her homemade doughnuts... as she turns up evidence that suggests Keith knew more than enough to blow the lid off some very unscholarly secrets. And then, as her search rattles one skeleton too many, Goldy learns a crucial fact: a little knowledge about a killer can be a deadly thing.
what readers are saying
What do you think? Write your own comment on this book!
Write a Comment
book info
published
Nov-1993 (hardcover)
Aug-1994 (paperback)
sub-genres
Amateur Sleuth
people / creatures
Chefs / Foodies
---